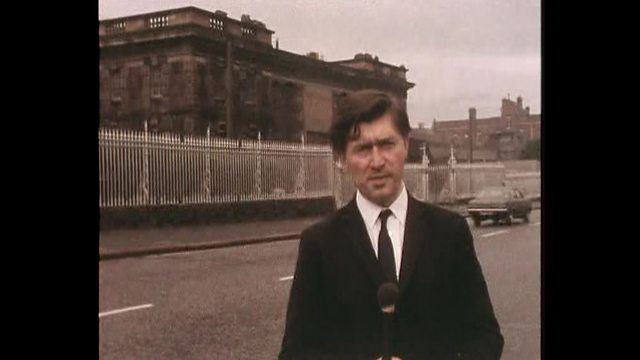 William Whitelaw grants prisoners 'political' status
Clifford Luton reports from outside Crumlin Road prison in Belfast on the day that William Whitelaw, Secretary of State for Northern Ireland, grants special privileges to prisoners convicted of terrorist-related offences. These privileges are: the right to wear their own clothes; segregation from ordinary prisoners; no prison work; and extra visits and food parcels.
Luton reports comments from Bogside MP John Hume that the prisoners' achievement of political status is due to their own self-sacrifice. Luton states that this interpretation is officially denied because: "Everyone knows that the British penal system knows nothing of political prisoners". Luton interviews republican spokesman James Kane who reveals that he had met the PRO (Public Relations Officer) for the republican prisoners earlier that day who conveyed to him, with a smile on his face, that the prisoners had now achieved the political status they had wanted.
Credits
| Role | Contributor |
| --- | --- |
| Reporter | Clifford Luton |