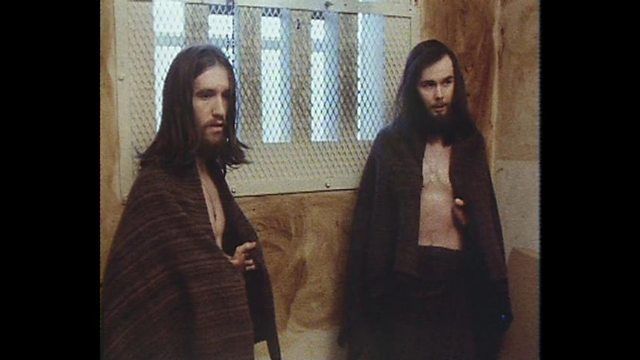 First TV pictures of the 'dirty protest' in the Maze prison
Robin Denselow's report begins with pictures of NCPs (non-co-operative prisoners) each closely guarded by a prison officer as they make their way for their monthly visit with friends and relations. Apart from such visits and Mass on Sunday the prisoners refuse to work or wear anything but prison blankets; they cover the walls of their cells in their own excrement. These are the first television pictures of the unbelievable conditions republican prisoners have been living in for over two and half years.
We see a team of workers cleaning the excrement off the walls using a mixture of steam and ammonia. Inside one of the H-block cells, two of the protesting prisoners, on the left, Hugh Rooney from Short Strand in East Belfast and Freddie Toal from Armagh city, talk to each other in Irish (Irish language speakers do not use the word Gaelic to describe their language, as Denselow does). An approximate translation would be: "No", in response to a question from another cell, then: "they're taking pictures/filming". The BBC is not allowed to interview them.
According to Denselow the smell of the excrement covered walls is indescribable and forces him to conclude his report with an observation: "These two men are not among the seven going on hunger strike but looking at the conditions in which the protesters have chosen to live for so long one can only conclude that if those on hunger strike decide it should be to the death then to the death it will be".
Featured in...
Maze prison inmates protest for the restoration of special category status.