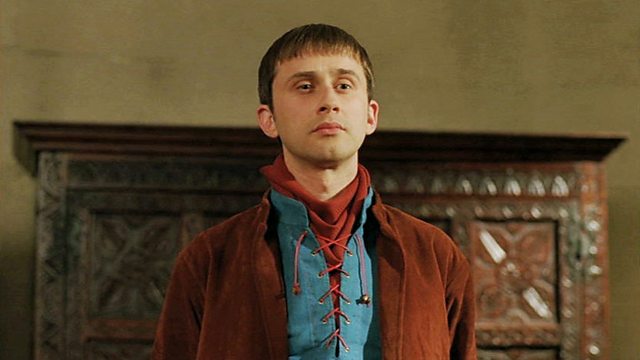 Arthur and George
Arthur wakes to see an unfamiliar figure at the foot of his bed. As he gazes on in bewilderment, the King is greeted by his new man-servant, George.
The enthusiastic George is more like a professional butler than a servant, and Arthur, accustomed to Merlin's clumsy ways, doesn't quite know what to make of him. George has laid out a terrific spread for a gourmet breakfast but Arthur is having none of it...
Although he would hate to admit it, the King would never let anyone replace his very own shabby servant. Where has Merlin disappeared to?
Credits
| Role | Contributor |
| --- | --- |
| Gaius | Richard Wilson |
| Merlin | Colin Morgan |
| Arthur | Bradley James |
| Agravaine | Nathaniel Parker |
| Morgana | Katie McGrath |
| Gwen | Angel Coulby |
| George | Leander Deeny |
| Voice of the Dragon | John Hurt |
| Sir Elyan | Adetomiwa Edun |
| Sir Leon | Rupert Young |
| Sir Percival | Tom Hopper |
| Sir Gwaine | Eoin Macken |
| Audrey | Zee Asha |
| Director | Alex Pillai |
| Producer | Johnny Capps |
| Producer | Julian Murphy |
| Writer | Lucy Watkins |