Thought for the Day - Rev Joel Edwards
Duration: 02:49
Good morning

Yesterday the United Nations officially named Danica Mae Camacho from the Philippines as the 7th billion person to be born.

Of course it's a little difficult to tell precisely which baby in which nation over the past few days really came in first by a belly button to win this accolade: but Danica is as worthy as any other.

People in Britain didn't make that much of a fuss about this landmark yesterday. But in other parts of the world people were going giddy about it. It seems Zambia is throwing a 7 billion song contest; and in Russia they're showering newborns with gifts. In Papua New Guinea, they're handing out goody bags.

In the last 50 years we have doubled the world's population and not everyone thinks it's a cause for celebration. The UNs secretary general Ban Ki-moon struck a cautious note by reminding us that Danica has arrived in a "world of contradiction" in which there is plenty of food but still billions of people going hungry.

Their arrival will mean parties, rituals and celebrations in some of the poorest regions of Africa and Asia; but it doesn't mean that they're necessarily doomed to despair. Globalisation, education and economic development will offer a reprieve for many. In 1950 the average woman gave birth to 6 children. Today that figure is 2.5.

Even so the new arrivals have provoked huge geo-political questions about food scarcity, environmental sustainability and even the reproductive rights of women. But the new political debates are part of an old story.

A friend of mine often says that when God wants to do something important in the world he has a baby. In the Bible, Moses, Sampson and Jesus each appeared in harsh circumstances of slavery and oppression. In their world, intractable questions about freedom and political oppression were prevailing issues. Their very arrival as innocent infants served only to exacerbate the anxious political questions in their day.

Political tension and even genocide are all part of the Christmas narrative.

But the very madness and oppression of their environments was the cultural cradle from which they emerged as liberators.

I believe in God's economy, good things still come from unexpected places. And the new arrivals who many think have come to create more problems may turn out to be the very solutions to those questions they have come to face.
Available since: Tue 1 Nov 2011
This clip is from
Debating the Greek referendum, the C of E and protests, and August baby blues.
First broadcast: 01 Nov 2011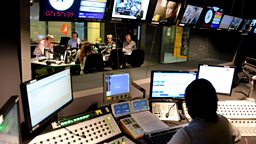 Featured in...
Reflections from a faith perspective on issues and people in the news.