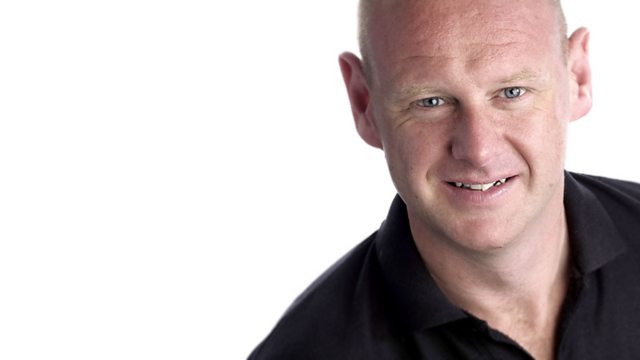 Katy Ashworth and David Walliams
Neil's Sunday evening programme is a mix of reviews and previews from the world of arts and culture, mixed with a selection of music that will leave you wanting more.
This week, CBeebies presenter Katy Ashworth tells Neil about her love of cooking and about her touring show.
Yoga teacher Elaine Rutherford teaching Neil to relax and chant to the sounds of a shruti box in Portsmouth's Guildhall Square and comic genius, writer and actor David Walliams tells Katie Martin about his new childrens book Gangsta Granny
BBC Radio Solent's poet laureate Chris Carnegy pays tribute to Norrie Woodhall, Dorset's last living link to the great author Thomas Hardy who has passed away at the grand old age of 105.
Hampshire county bowls player Steve Whitehead keeps us up to date with the world of bowls and in a seasonal A-Z playlist, Neil is looking for songs suitable for the main events of this week.
For those on the roads across the south of England, there is travel news as it happens. And a smile is promised as the weekend draws to a close.
BBC Radio Solent offers a choice of listening on a Sunday evening, with Neil on 96.1 and 103.8FM, on 999 and 1359 AM and on the BBC iPlayer, The Paul Miller Soul Show is on digital radio and the BBC iPlayer.
Last on