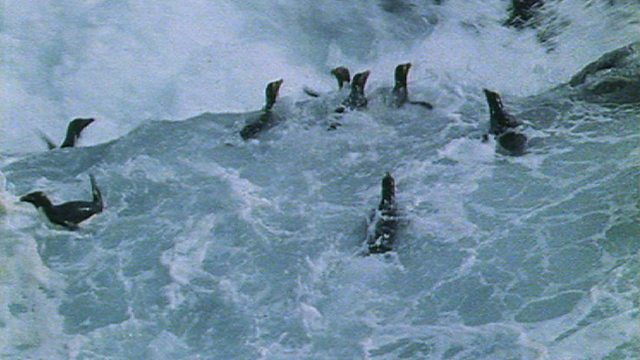 High waters
The pounding surf of the great Southern Ocean beats on the rocky shore of South Georgia, yet Macaroni penguins swim in these rough seas and are desperate to get ashore. Their flippers are little help out of water and all they have to give them a grip on the slippery rock are the small claws on their feet. Meanwhile breakers crash over them, knocking them back into the water and tossing them around in the surf. At the end of summer, life is becoming increasingly difficult for the Macaroni penguins. They need to get ashore to feed chicks that are almost fully grown and have massive appetites. With the approach of autumn, the weather will worsen. Massive depressions will rush around the fringes of the Antarctic continent, creating huge gales that gust at more than 100 miles per hour. Before long, the temperature will drop below freezing and all the wildlife here will be in a desperate race to finish breeding.
Featured in...
Watch the best clips of David Attenborough's films from the polar regions for over 30 years.

Be captivated, informed and inspired by the world's wildlife.