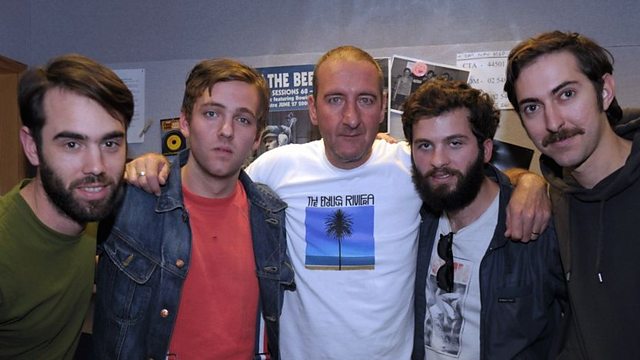 Dead Trees - Interview with Marc Riley
Marc chats with American indie band Dead Trees about the derivation of their name (was it from T.S. Elliot's quote "Dead Trees give no shelter"?) and the diverse music scene in Portland.
The Dead Trees are Michael Ian Cummings (vocals, guitar), Todd Dalhoff (bass, vocals), Matthew Borg (guitar, vocals) and Noah Rubin (drums, vocals).
They formed the band in Boston, 2007, released their debut Fort Music EP shortly thereafter, then packed up and moved all the way west to Portland, Oregon. Somewhere along the way, Fort Music fell into the hands of STROKES guitarist Albert Hammond Jr, who took the DEAD TREES on two US tours supporting his solo effort. They lived in Portland for two years, worked odd jobs, and wrote and recorded their first full-length album, 'King of Rosa'.
After releasing the album on Milan Records in late 2008, they spent most of the next year on the road with THE WHIGS, Adam Green and MGMT, as well as touring Europe, Brazil and the U.S. as LITTLE JOY's backing band.
At the end of 2009, they moved again - this time to Los Angeles, where they link up with producer Noah
Georgeson (Devendra Banhart, Joanna Newsom, LITTLE JOY, Adam Green). The album titled WHATWAVE was recorded last year in the Hollywood Hills at New King Sound, and features musical contributions from LITTLE JOY's Fabrizio Moretti, Binki Shapiro and Rodrigo Amarante.