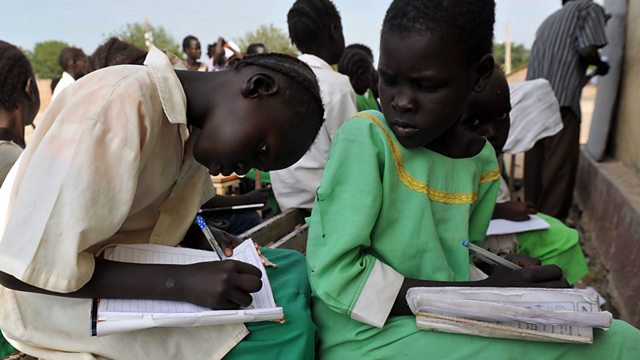 Afghanistan and South Sudan
Owen Bennett Jones introduces despatches from correspondents around the world. In today's programme:
Nick Danziger reflects on how the world has misunderstood and distorted Afghan reality - and asks whether one reason international efforts have achieved so little in Afghanistan is that we've been listening to the wrong people.
Meanwhile, in Juba, capital of the world's newest nation, South Sudan, Rosie Goldsmith witnesses the huge and growing appetite for the English language.
A rule for success: listen to the women
The tenth anniversary of 9/11 and the subsequent military action to topple the Taliban have produced a slew of media coverage about Afghanistan. Much of it has contemplated the West's failure to achieve its many and sometimes conflicting objectives in the country. Violence, poverty, the drug trade and human rights abuses are still all too present.
Photographer Nick Danziger has visited the country frequently - in fact he adopted three Afghan children. And he believes that Afghan women, in particular, have good reason to worry about the future.
Starting to speak in a start-up nation
In Afghanistan - and in Iraq - there has been much talk over the last decade of 'nation building'. But the challenges even in those two countries are surely dwarfed by the task facing the people of South Sudan.
Rosie Goldsmith has just been to Juba, its capital and witnessed the shortage of so many things: roads, roofs, hospitals, teachers and books. This is a country starting out with plenty of high hopes and very little of anything else. Yet there's an intense thirst for learning - and above all for learning the English language.
(Image Credit: Getty)
Last on
Thu 13 Oct 2011
03:50

GMT