Thought for the Day - Canon Dr Giles Fraser
Duration: 03:11
Baha Mousa died on the 15 September 2003 after 36 hours of detention and being beaten up by soldiers of the 1st Battalion, Queen's Lancashire Regiment. Sir William Gage's recent report concluded that Mousa was "subjected to violent and cowardly abuse by British servicemen whose job it was to guard him and treat him humanely".

Amongst those singled out for criticism by Sir William Gage was the Catholic Chaplain who, the report insists, was a poor witness to the brutality that was happening around him. It's interesting to speak here in terms of being a
"witness' – because, in the New Testament, witness is the proper translation of the much abused Greek word martyr. A martyr, rightly understood, is someone who suffers for speaking out. Early Christians began to use the term
martyr to refer to the death of Jesus Christ because they saw Jesus as speaking truth to power, even at the price of his own life.

Thus the central image of Christianity is that of a man being tortured to death on a cross. Which is why I find it astonishing - and more than a little shameful - that a poll conducted a few years back for the Pew Forum on Religion and Public Life revealed that 54% of American Christians
believed that torture is "often" or "sometimes" justifiable. Well I have no idea what Bible these people are reading, but it doesn't seem to be the same one as me.

But it's not just Christians that can fail to recognize torture as a non-negotiable moral evil. As the human rights lawyer Conor Gearty has remarked, "the development of a liberal culture capable of accommodating torture is not as difficult as it ought to be." And the way a liberal
culture does this, he argues, is by taking the 'human' bit out of 'human rights', promoting instead the subtly persuasive idea that defending human rights is really all about defending some much larger narrative about democracy or freedom. For once the stakes have been raised to this level, then it becomes just too easy to persuade an apparently human rights based culture to tolerate a bit of 'roughing up' in the name of some higher good.

"Ecce Homo" are the words used by Pontius Pilate in the Latin Vulgate Bible when he presents a whipped and beaten Jesus Christ to the baying mob. Translated it means: "Behold, the man." This is the only argument I have
against torture. In fact, it's not really an argument at all. That torture is wrong can never be the conclusion to any line of reasoning because it has to be a fundamental premise. Witnessing to the humanity of the other is the
place where all moral reasoning must begin. It is about having the moral courage to speak out, irrespective of personal cost. And the basic structure of this witness, for religious and non-religious alike, is to point to a
bruised and broken body with a version of these words: Ecce Homo. This person is human too.
Available since: Fri 16 Sep 2011
This clip is from
Including Sports Desk; Yesterday in Parliament; Weather; Thought for the Day.
First broadcast: 16 Sep 2011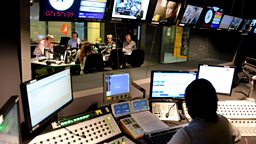 Featured in...
Reflections from a faith perspective on issues and people in the news.