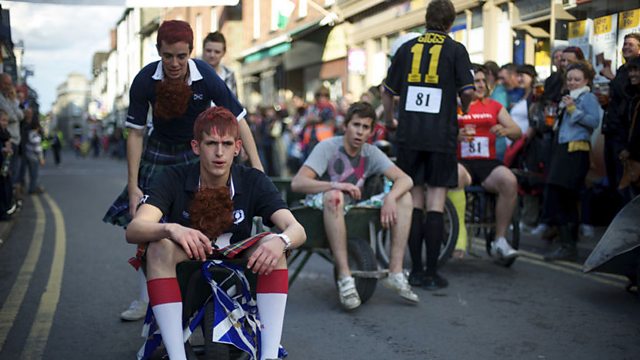 The Marches - Man in a Wheelbarrow
Written by Sebastian Baczkiewicz.
Trudy's arrival in Kington has caused quite a stir. The young American, with her dyed neon hair, looks more like a visiting rock star than an inhabitant of the Herefordshire market town. Trudy claims that she's researching local history, but her story doesn't add up. When she starts surreptitiously following the town's street cleaner, questions are asked about the real reason for her visit.
Over the past year, BBC Radio Drama has worked in partnership with the Rural Media Company and the Herefordshire communities of Kington and Ewyas Harold to create The Marches - a highly innovative project that combines the mediums of radio and film with community participation.
The film that accompanies Man In A Wheelbarrow was directed by John Humphreys. It is a lovingly crafted visual exploration of Kington and the locations, places and events of the play. It features the Kington Festival's famous Wheelbarrow Race as well as stories, ideas and themes gathered from across the market town.
Duration: