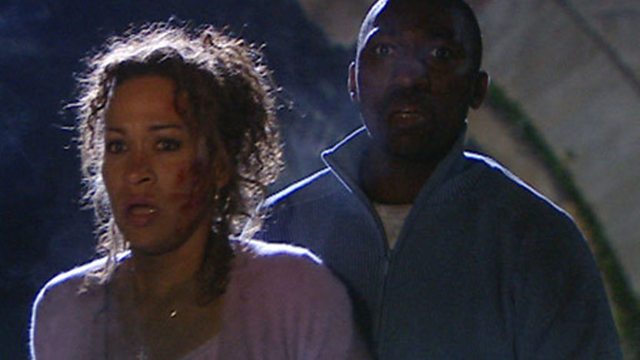 Casualty 25th anniversary: "End of the line" - winning video
Casualty's dramatic and devastating train crash episode from 2003 has steamed to success in a viewer vote to decide the drama's most popular episode of the past 25 years, it was announced today (6 September, 2011) – Casualty's 25th Birthday.
To celebrate its silver anniversary, Casualty asked fans to vote for their favourite episode from a shortlist of ten past classics on the Casualty website. The train crash episode "The End of the Line" was a clear winner with 18.5% of the votes; Ruth Winters' (Georgia Taylor) suicide attempt in "Before a Fall" was runner up with 14.5% of Casualty fans choosing it their favourite; and Brenda Fricker's moving comeback episode "Nice and Easy Does It" took third place with 12.4% of viewer votes.
"Casualty: The End of the Line" was first shown in September 2003 as the opening episode of series 18. Written by Ann Marie di Mambro, the episode was the first in a two-part story which saw Holby's ED staff thrust into the centre of a terrifying train crash. Watched by over nine million viewers, the episode starred Martina Laird, Kwame Kwei-Armah, Derek Thompson, Suzanne Packer, Ian Bleasdale and Simon MacCorkindale.
Result of Viewer Vote:
Series 18, ep 1, 2003
"End of the Line" by Ann Marie di Mambro (train crash) 18.5%
Series 22, ep 24, 2008
"Before a Fall" by Dana Fainaru (Ruth's attempted suicide) 14.5%
Series 24, ep 47, 2010
"Nice & Easy Does It" by Sasha Hails (Megan's assisted suicide) 12.4%
Series 25, ep 23, 2011
"Place of Safety" by Dana Fainaru (Ruth sectioned) 11.2%
Series 23, ep1, 2009
"Farmead Menace" by Mark Catley (Holby race riots and Tess impaled on a building site) 10/.9%
Series 21, ep 15, 2007
"Killing Me Softly" by Barbara Machin (Josh gets stabbed) 8.5%
Series 7, ep 24, 1993
"Boiling Point" by Peter Bowker (riot and arson in the ED) 8%
Series 12, ep 22, 1998
"Love Me Tender" by Tony Lindsay (Tina admits to Eve she was raped) 6.9%
Series 12, ep 17, 1998
"The Golden Hour" by Barbara Machin (motorway pile-up) 6.4%
Series 1, ep 15, 1986
"Closure" by Paul Unwin & Jeremy Brock (night shift goes on strike to protest about
closure) 2.8%