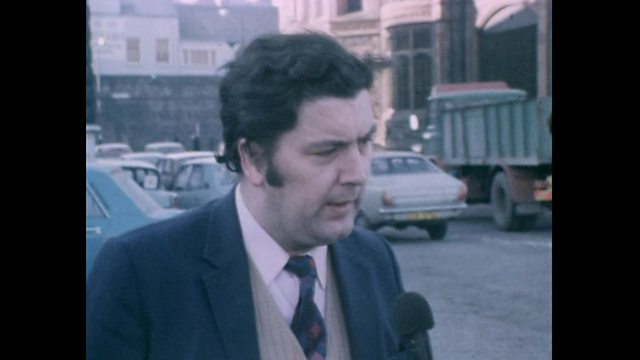 Reaction in Londonderry to Bloody Sunday
Reporter Don Anderson walks along a street in the centre of Londonderry and states that it "would be impossible to be in Derry today and not know that something has jarred the city. There's a feeling of tension in the air".
Troops are patrolling the city and the Provisional Irish Republican Army (PIRA) has promised retaliation for yesterday's shooting of civilians. There's a general strike and the streets are empty. Practically every shop in the city centre is shut. The strike has the support of all sections of Catholic opinion.
The reporter speaks to John Hume - the Social Democratic and Labour Party (SDLP) MP for Foyle in the Northern Ireland parliament. Hume states that people's attitudes will have been hardened by troops firing on yesterday's march; the only thing that could de-escalate the tension would be a political settlement and strong action from Edward Heath (the Conservative Prime Minister) – "It's time he got off his boat". John Hume stresses that his community's deep seated desire for a united Ireland does not mean that Catholics are anti-Protestant.
Don Anderson then speaks to Commander Albert Anderson, Ulster Unionist MP for the City of Londonderry in the Northern Ireland parliament. Commander Anderson responds to John Hume's call for the removal of the border: "I think this has been John Hume's aim all along, I think he has disguised it through the years with various other demands". Anderson states that the SDLP are the political wing of the IRA. Asked about Derry's future, Commander Anderson says that with regard to commerce it is very black. Derry is now a city of hatred and bitterness and he believes "John Hume and his party, but particularly John Hume, have ruined this city".