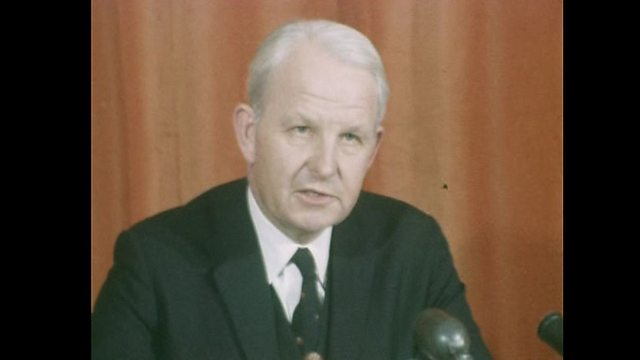 Brian Faulkner's statement in the aftermath of Bloody Sunday
The Prime Minister of Northern Ireland, Brian Faulkner, makes a public statement in the aftermath of the events of Bloody Sunday in Londonderry on 30 January 1972, opening with the assertion that "this is a very grave moment indeed in the history of Northern Ireland. Mounting hysteria and unreason surround us on every side."
Faulkner says that the government has two main responsibilities - to continue to speak with the voice of reason with any fellow citizen who wishes to discuss the situation in a realistic and reasonable spirit; but also to speak for the vast majority of Ulster people who have borne months and years of disorder with fortitude.
Mr Faulkner warns those campaigning to achieve a united Ireland that "the Unionist community in Northern Ireland will not tolerate such a proposition", while maintaining that his government is more than ready to discuss how the institutions of Northern Ireland can be re-framed on a basis of general consent. His continuing aim is to seek a peaceful way out of the current situation, but, he says, if lawful authority continues to be rejected, "This government and this parliament will demand to be heard over any clamour in the streets to assert that those we represent also have their basic rights – and will defend them."