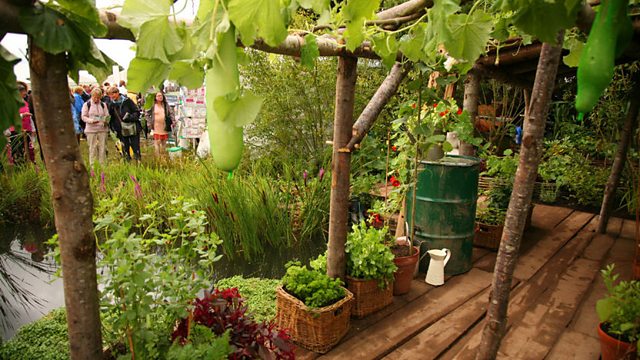 Video: Oxfam Garden – When the Water Rises
Dori Miller has created a garden about the threat flooding poses to food producers in developing countries. By illustrating techniques used to aid growing above the water line, she hopes to raise awareness of the difficulty so many have when growing simple crops like beets and onions.
The produce in the garden has been grown by friends, neighbours and members of the extended community. Dori herself has been growing a kado/gourd for the garden, it's a large plant and has grown "like a triffid" in her conservatory. Others have used old tins and wellies to grow other producer for the garden.
Dori's local woodland centre has made the wooden structures and woven baskets and proves that using local resources can be really rewarding. The woven baskets are also a great idea for anyone with flooding issues in their garden; if anchored they will hopefully float in rising waters rather than fixed beds which would quickly be destroyed.