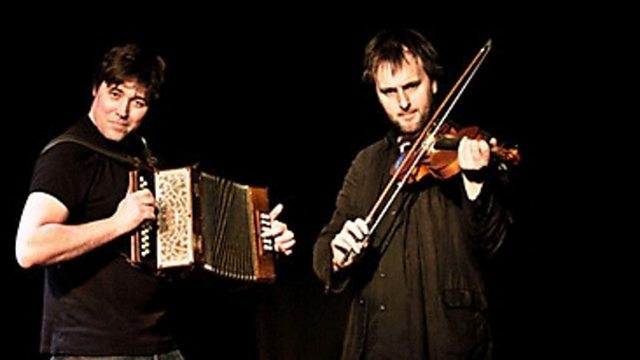 Spiers and Boden - Interview with Mike Harding
Mike Harding talks to the acclaimed duo Spiers and Boden about their new album The Works, which comes as they mark ten years together.
Tracks include:
— Bold Sir Rylas
— Haul Away
— The Cheshire Waltz
— Prickle-Eye Bush
The album sees melodeon player John Spiers and singer and fiddler Jon Boden revisit and re-record some of their favourite songs and tunes, assisted by a host of musical friends including Martin Simpson, Martin Carthy, Eliza Carthy, Sam Sweeney, Maddy Prior, Andy Cutting and Fay Hield.
John and Jon met playing sessions in an Oxford pub in 1999, and released their debut album in 2001. Before long they established themselves as amongst the most exciting purveyors of English traditional music. Eliza Carthy later hired them for her backing band, and in 2004 they founded the many-headed folk phenomenon, Bellowhead.
Despite their other projects taking off in such a big way, John and Jon have continued to perform as a duo, and on tonight's programme they tell Mike how, and why, they do it all.