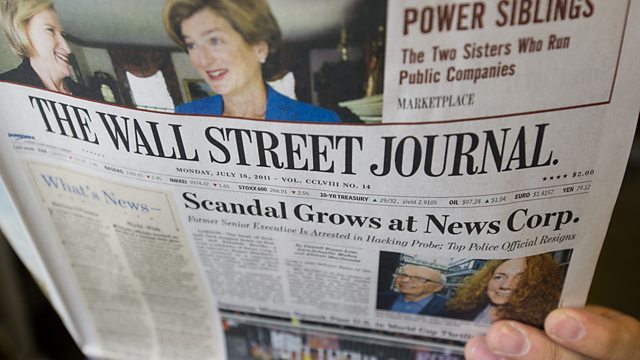 End of empire for Rupert Murdoch?
It has been described as the Wizard of Oz moment - the moment the curtain was drawn back to reveal the real Rupert Murdoch. Is the elderly man who seemed to have trouble recalling the details of his business really capable of running one of the greatest media empires on the planet?
Today the entire programme looks at News Corporation, the company that controls Rupert Murdoch's vast global media empire.
The reason is, of course, the extraordinary scandal surrounding phone hacking by one of the company's British newspapers. We're not interested in the details of the scandal itself, but its wider implications and the effect it is likely to have on Mr Murdoch's worldwide media interests.
The BBC's Rob Young explains how Rupert Murdoch built News Corp from a tiny Australian newspaper group into the global behemoth it is today.
Rupert Murdoch may have looked his age when he appeared before British MPs on Tuesday but his business rivals know you should never underestimate him.
Fellow Australian Bill O'Neill knows Rupert Murdoch well. He worked for for News Corporation for half a century, helping build the business alongside his boss.
Bill O'Neill is the former printer turned print union buster who oversaw the move in 1985 of Mr Murdoch's British newespapers from heavily unionised Fleet Street to a secretly-constructed new hi-tech base in Wapping.
From a business perspective it was an extraordinarily brave move and a crucial moment in News Corp's history. It transformed the fortunes of Mr Murdoch's UK papers but precipitated a bitter year-long strike.
Many in Britain say Mr Murdoch lowered standards in the British newspaper industry, yet Bill O'Neill calls him a champion of the press. Justin Rowlatt asks him why.
Bill O'Neill is confident that News Corp will survive this scandal yet the problems in the British newspaper division are now in danger of overwhelming the entire company.
Not only have Rupert Murdoch and his son James had to suffer the indignity of a very public grilling from British MPs but his companies are now facing scrutiny in many territories including, most importantly, the US.
Justin Rowlatt speaks to Tim Marjoribanks, Professor of Management at Latrobe University in Melbourne, Australia about the issues now facing News Corp.
And he hears from the media commentator and broadcaster Steve Hewlett about how damaging this scandal has been for News Corp and the key issues for its future.
Last on
Wed 20 Jul 2011
11:32

GMT