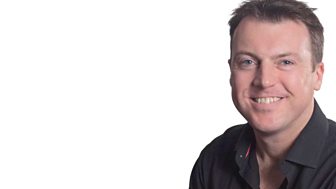 Mike Zeller
Join Mike Zeller on BBC Radio Cumbria.
Mike Zeller
Living it and loving it! The best of Cumbria's morning with Mike.
A proud Cumbrian by birth, Mike has been all over the place, thanks to radio, doing a multitude of different jobs at all hours of the day.
His career started just over the border in Lancashire, broadcasting to insomniacs and all night party animals on Rock FM, before he landed his first full-time job, at Viking FM in Hull.
One thing you may not know is that Mike has virtually no sense of smell - handy when you work in a place well known for processing fish...
A stint in Bedford followed (but we don't like to talk about it), before Mike moved to the Midlands, where he has had a home ever since.
He did the very first show on 107.7 The Wolf, before becoming Deputy Programme Director of Heart in Birmingham.
He was then sent to Coventry, where he was Programme Controller of Mercia.
After leaving Mercia, he got the rare opportunity of working in Guernsey, as Programme Manager of Island FM.
He spent nearly 18 months in the Bailiwick, getting as he puts it, "the best suntan I've ever had". But it was also an experience that he'll never forget. "I was lucky enough to get paid to live and work in one of the most beautiful parts of the British Isles, probably second only to Cumbria in all honesty.
The chance to work with, and develop, some great young talent, who helped me deliver some of the best audience figures the station has known, made it one of my career highlights". However, the lure of coming back and broadcasting to his home county proved too much, and Mike is delighted to be on air at BBC Radio Cumbria.
Oh, and the chance to see his beloved Carlisle United on a more regular basis, might have played a small part too!