Constant Lambert and Alan Rawsthorne
Duration: 1:03:17
Donald Macleod explores the lives and works of these two composers, born a few months apart in 1905 and who were both contemporaries and friends.


Donald Macleod begins his exploration of the lives and works of Lambert and Rawsthorne. As he finds out, among their many common interests was a passion for cats and fish. He follows them along their different career paths; Constant Lambert had a meteoric start and was already established by the age of 22, but it took Alan Rawsthorne considerably longer to make his mark, not least because he began training as both a dentist and an architect first.


Constant Lambert and Alan Rawsthorne had more than music, cats and fish in common; not least that they both married the same woman. The amazing Isabel Nicholas was one of the great muses of the 20th century. Donald Macleod looks at how she, and other significant women, affected the composers' lives.



Donald Macleod ends his examination of the lives and music of these two composers by looking at the friendships that surrounded and influenced the two men and the friendship that existed between them.
Available since: Wed 1 Jun 2011
This clip is from
The lives and works of two composers who were born a few months apart in 1905.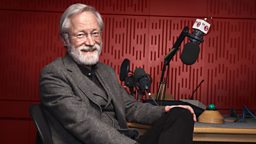 More clips from Constant Lambert and Alan Rawsthorne