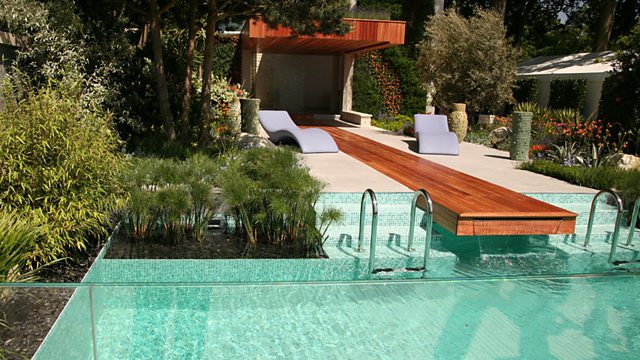 The Monaco Garden, designed by Sarah Eberle
A previous Best in Show winner, Sarah has created a majestic roof garden inspired by the Principality of Monaco. Complete with a spectacular lap pool, entertaining area and apartment building at the rear - the garden brings a taste of the Mediterranean to Chelsea.
From the buildings at the rear a cantilevered canopy filled with lavender offers shade and protection from the elements. A green wall planted carpobrotus and osteospernums aims to reduce solar gain thus reducing the amount of energy used to heat and cool the apartment. Borders in the garden contain wonderful specimen trees like Caratonia siliqua (the carob tree indigineous to Monaco), Chorisia speciosa (the floss silk tree found by Sarah in the Jardin Exotique in Monaco) and a mandarin complete with plump, ripe fruits.