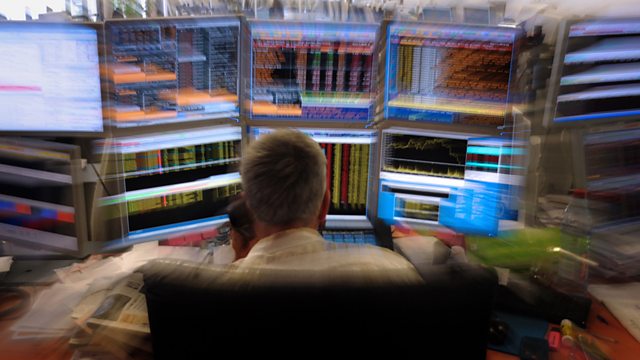 Euro - crisis over?
We cover three very different stories on Business Daily today - the Eurozone debt crisis, insider trading and whether women make better leaders.
"We find ourselves in a terrible situation", that's what Portugal's new prime minister said in his victory speech on Sunday night. It is not a very triumphant sentiment but the country's new Social Democratic government does not have a pleasant job ahead.
The new goverment has agreed to make deep cuts in government spending and extensive economic reforms in order to, the country's new PM said, restore international confidence in Portugal.
And, there is news from Europe's other debtor nations too. International lenders say they are close to agreeing a new rescue package for Greece. So is this the beginning of the end of the Eurozone's simmering debt crisis?
Justin Rowlatt interviews Professor Iain Begg at the London School of Economics.
Plus - should insider trading really be considered a crime?
Last month the American government won an historic victory against insider trading when Raj Rajaratnam, the boss of Galleon Group, a large hedge fund, was convicted of 14 counts of securities fraud and insider trading.
The court found Mr Rajaratnam had made profits of $64 million by trading based on tips from a wide network of contacts in some of America's most prestigious firms including Goldman Sachs, Google and Intel.
Here at Business Daily we like to think the unthinkable and we've been wondering whether all insider trading should really be considered a crime. Doesn't economic theory suggest that the more information in a market the more efficiently it will operate? Justin Rowlatt discusses this contentious claim with Professor Robert McGee of Florida International University and Jacob Frenkel a former federal prosecutor who specialises in white collar crime.
And finally - do women make better leaders?
Christine Lagarde offered four key areas of expertise when she launched her bid to be the new head of the IMF. She said she would bring to the job all her "experience as a lawyer, a minister, a manager and a woman".
That got our regular commentator Lucy Kellaway of the Financial Times thinking: the first three strands of experience are self-explanatory but what about the fourth? What special experience might Ms Lagarde have gained as a woman and how might it be relevant to a job at an international institution like the IMF?
Last on