Stephen Sondheim
Duration: 1:04:16
As part of his 80th birthday celebrations, Broadway legend Stephen Sondheim looked back over his life and work, with Donald Macleod. The result is a fascinating retrospective of half a century of creativity, with the artist himself as tour guide. Along the way, he explodes a few myths about the inner workings of musical theatre.

Sondheim starts by talking about his childhood, his parents' divorce, his near-adoption by the Hammerstein family and his apprenticeship with Oscar Hammerstein, the lyricist of Oklahoma! Then there's the rollercoaster ride of his early career: his first, abortive Broadway show; two amazing breaks, when he was commissioned to write the lyrics for first West Side Story, then Gypsy; his unhappy collaboration with Richard Rogers; and his major creative breakthrough with Company, a musical with situations and characters but no conventional plot, and the first appearance of characteristic Sondheim subject-matter - the virtual impossibility of forming good relationships. As one British critic observed, "It is extraordinary that a musical, that most trivial of forms, should be able to plunge as Company does, with perfect congruity, into the profound depths of human perplexity and misery.".
Next, and in typical Sondheim fashion, Stephen expands the notion of what the musical could be, with razor-sharp language and cracking tunes to boot: Follies, in which a reunion of Ziegfield-style Follies stars in a derelict theatre becomes a metaphor for the death of the American dream; A Little Night Music, a musical about relationships written almost entirely in waltz-time, that spawned Sondheim's most famous song, 'Send in the Clowns'; and Pacific Overtures, a 'kabuki musical' with an all-Japanese cast - an exploration of the 19th-century westernization of Japan, seen from the Japanese perspective.

Sweeney Todd is widely regarded as Sondheim's masterpiece, an extraordinarily powerful work which he has modestly described as "a small and scary evening about the need for revenge.". Sweeney Todd was a huge success and is widely performed today, from schools (in a special educational edition) to opera houses. Whereas Merrily We Roll Along, failed to catch the public mood. It is a tale of disintegrating friendships and compromised idealism, narrated, in a characteristic structural twist, backwards. Despite a marvellous score, it remains Sondheim's biggest flop to date. Among other topics, Sondheim also discusses his long-time collaboration with director Hal Prince, the logistics of working with an orchestrator, and the heart attack he suffered in 1979, just three weeks after the opening of Sweeney.
Next, the musical that grew out of a painting; a tangled web of fairytales; and a positively murderous show about the assassins, and would-be-assassins, of US presidents. The painting in question is Seurat's hugely famous A Sunday Afternoon on the Island of La Grande Jatte, and the work it inspired was the Pulitzer-prize-winning Sunday in the Park with George, a deeply personal show about the joys and the costs of creation. The fairytales are the ones familiar to every child, but in Into the Woods they are woven together in an extraordinarily intricate way, before completely unravelling in the second act. Assassins caused a huge furore when it was unveiled in 1990, not least because it happened to coincide with the opening salvo of the first Gulf War, Operation Desert Storm - under such circumstances, a show that climaxed with the assassination of JFK was bound to be interpreted as deeply unpatriotic. Sondheim also talks about the logistics of mounting a Broadway production, and the pleasures of "trancing out" during the creative process.

Finally, Passion, a kind of reversal of the Beauty and the Beast myth, which Sondheim has described as "one long rhapsody, a straightforward, non-ironic love story"; The Frogs, a contemporary take on Aristophanes originally staged in the swimming pool at Yale University (with Meryl Streep and Sigourney Weaver in the chorus line); and Road Show, a musical about the Mizner brothers which proves the old adage that "musicals aren't written, they're re-written" - it's currently in its fourth incarnation.
Available since: Tue 10 May 2011
This clip is from
Composer and lyricist Stephen Sondheim joins Donald Macleod to discuss his life and work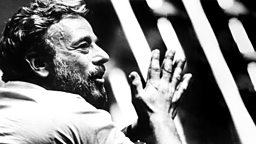 More clips from Stephen Sondheim (1930-)