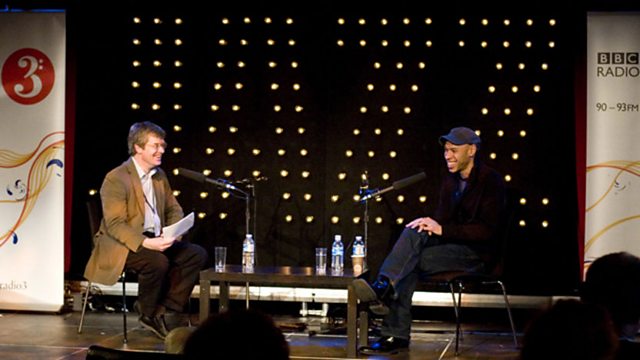 Jazz Library - Joshua Redman
In a programme recorded at the Gateshead Jazz Festival 2009, Alyn Shipton is joined by saxophonist Joshua Redman to look back at his best recordings. These include his early quintets and quartets, his trios with organist Sam Yahel, right up to more recent albums, all of them marked out by Redman's consistent balance between exploration and instrumental virtuosity.
Jazz Top 100 Bio
Joshua Redman
(1969 - present)
Joshua Redman's progress from unknown to a position of world renown during the 1990s was little short of remarkable. Although he is the son of saxophonist Dewey Redman, (a leading figure in the 1960s avant garde, and a long-term colleague of Ornette Coleman,) Joshua grew up independently of his father and was initially largely self-taught on the saxophone.
In 1991 he won the Thelonious Monk competition, and gave up a career as a law student to focus on music. Equally proficient on tenor, alto and soprano, his playing has taken forward and developed the lyrical melodic style of Sonny Rollins rather than the muscular, harmonically dense influence of John Coltrane.
His brilliant communication skills and charisma are allied to technique that moves easily between registers, and produces solos that have considerable internal logic, involving the listener in their development. His charm and stage presence has helped to create a new, young, audience for jazz, and he has carried this forward in his work as artistic director of the San Francisco Spring Season jazz festival.
Redman's career took off when he joined Jack DeJohnette's band, followed by work with Elvin Jones, Paul Motian, Pat Metheny and Chick Corea. His own groups developed in parallel, and from 1992 much of his time has been spent fronting his own quartet - occasionally reduced to a trio and at other times enlarged to a quintet.
He has also developed his skills as a composer, and focussed on experimenting with time and large scale compositions. His 2001 suite Passage of Time is his most ambitious composition to date, and draws together many elements of his earlier work both as player and performer.
Further Reading:
Alyn Shipton: 'Joshua Redman' in Jazz Makers: Vanguards of Sound (New York, Oxford University Press, 2002)
Recommended CD:
Timeless Tales for Changing Times (Warner CDW 47052-2)
Suggested track: Eleanor Rigby
This is the podcast version of the original programme with music lengths adjusted for archive rights. Listen to the programme from this page or follow the links to download and keep the programme as a podcast.