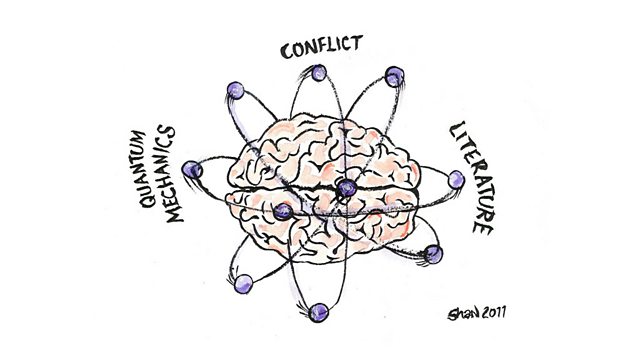 23/04/2011
Do we thrive on conflict? We bore deep into the human skull today to explore the extraordinary way the different units that make up our neural circuitry compete with each other like a team of rivals.
Mysteries of another invisible world too: the conflicting theories regarding the very tiniest particles that inhabit the realm of quantum physics. We find out how their strange behaviour may be the key to a Theory of Everything.
And the age old clash between the author and the state in modern day Russia.
Bridget Kendall is joined by American neuroscientist David Eagleman, Dutch theoretical physicist and Nobel prize winner Gerard ' T Hooft and Russian novelist Mikhail Shishkin.
Illustration by Shan Pillay: The brain - nucleus of all ideas, juggles quantum physics, literature and conflict in this week's programme.
Last on
Sun 24 Apr 2011
14:05

GMT