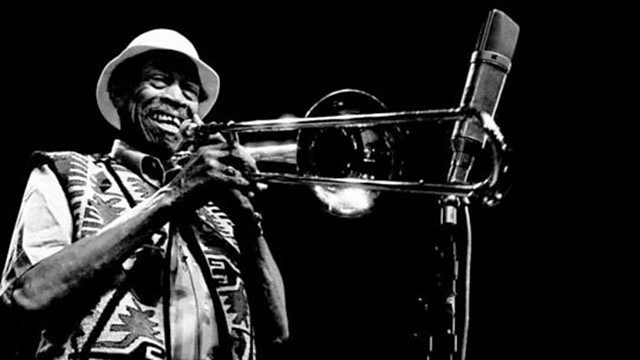 Jazz Library - Al Grey
Trombonist Al Grey was one of the most distinctive soloists in big band jazz, working with many of the most famous swing orchestras. In an archive interview, recorded just before his death, Al selects his key recordings with, among others, Count Basie, Lionel Hampton and Dizzy Gillespie.
With his gap-toothed grin, pith helmet and extrovert trombone style, Al Grey was one of the most colourful characters in jazz. He and Alyn Shipton first met when Radio 3 broadcast Lionel Hampton's Golden Men of Jazz, for whom Al was musical director. They kept in touch, and not long before Al's death in April 2000, Alyn visited him at his home in Great Neck Long Island to pick the trombonist's favourite recordings from his voluminous catalogue.
This is the podcast version of the original programme with music lengths adjusted for archive rights. Listen to the programme from this page or follow the links to download and keep the programme as a podcast. See below for a full list of featured tracks.