Winter shutdown
Duration: 03:49
The days shorten and the temperature drops as autumn turns to winter in the northern forests. Eventually the land is gripped by frost. By late winter the trees are mere skeletons and life has come almost to a complete standstill. Without their leaves, the trees can not grow and the birds have retreated south. Some of the small mammals have gone to sleep. Their heart beat has almost stopped and their bodies have become as cold as stone. They are hibernating. Chipmunks, however, can not let their body temperature drop to freezing or they will die. So in really cold spells they must emerge every few days to exercise and warm up, even though this may dangerously deplete their fat reserves. Black bears, on the other hand, sleep for months on end. In early autumn, a female black bear will retreat to a den where she will spend a month of drowsiness before giving birth to her cubs. In the colder more northern parts of these woods, she may spend six or seven months underground in which time she will suckle her cubs. But she herself will not eat, urinate or defecate in all that time. She therefore spends most of her life half asleep. When spring comes the forest floor is flooded with colour as the flowers try to soak up the spring sunshine before the trees above them produce their own leaves and cut out the light.
Available since: Thu 3 Mar 2011
This clip is from
3/12 David Attenborough explores the largest forest in the world.
First broadcast: 02 Feb 1984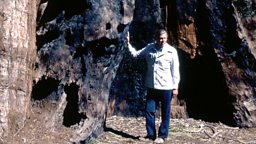 Featured in...
Be captivated, informed and inspired by the world's wildlife.
More clips from The Northern Forests