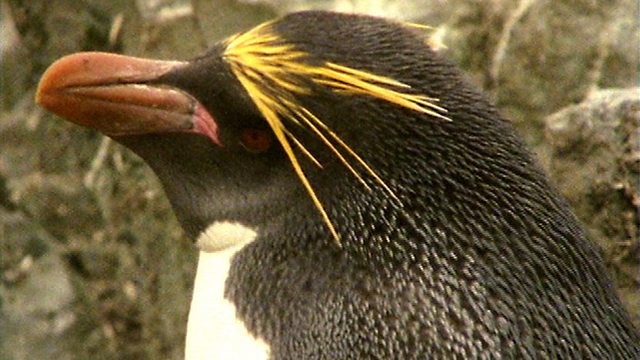 Penguin wrappers
David Attenborough visits a Macaroni penguin colony on the island of South Georgia, half way between South America and the Antarctic. Penguins did not evolve in cold climates but in warm ones. Yet their thick coats serve to keep them warm in any seas, while also protecting them against the freezing winds of Antarctica. Penguins are superb swimmers and are incredibly resilient, able to withstand being bashed against the rocks by ferocious waves. Emperor penguins retain their heat better than the smaller chinstrap penguins but their big size can made problems when it comes to breeding. They lay just one egg which they keep warm by holding it on their feet covered by a fold of feathered skin. They keep the egg like this for eight long weeks until it hatches. After that, the chick is so dependent on them that they must feed it for a further ten months.
Featured in...
Be captivated, informed and inspired by the world's wildlife.

Watch the best clips of David Attenborough's films from the polar regions for over 30 years.