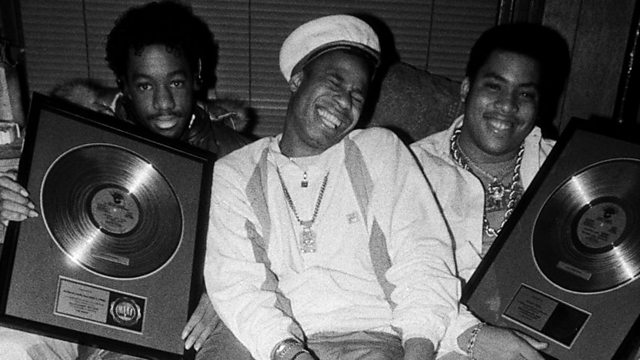 History of Hip Hop 1985 by Jaguar Skills
Hip Hop anthems from 1985 in the mix from the likes of LL Cool J, Run DMC and Doug E Fresh & The Get Fresh Crew (pictured).
Part of Jaguar Skills' hour long mash up of hip hop hits from 1979 to 2009. 538 tracks charting the entire history of hip hop, from block party to arena, mixtape to multi-platinum selling album.
Here's the tracklist for 1985
Run DMC - Together Forever
LL Cool J - Rock The Bells
Doug E. Fresh & the Get Fresh Crew - The Show
LL Cool J - Can't Live Without My Radio
Rockmaster Scott & the Dynamic Three - Request Line
Cutmaster D.C. - Brooklyn's in the House
Run DMC - King Of Rock
Bad Boys featuring K Love - Veronica
Schoolly D - P.S.K.
Schoolly D - Gucci Time
Doug E. Fresh & the Get Fresh Crew - La Di Da Di
Whistle - (Nothing Serious) Just Buggin'
Kurtis Blow - If I Ruled the World