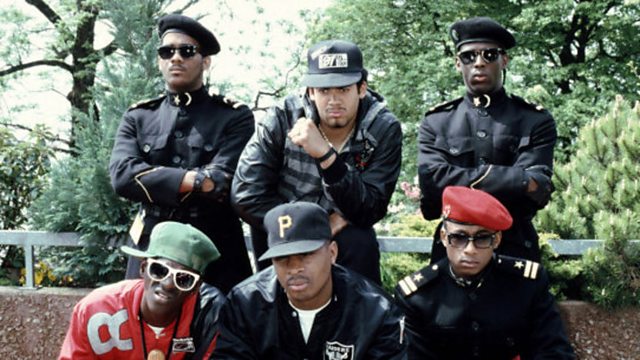 History of Hip Hop 1987 by Jaguar Skills
Hip Hop anthems from 1987 in the mix from the likes of Eric B & Rakim, Ultramagnetic MCs and Public Enemy (pictured).
Part of Jaguar Skills' hour long mash up of hip hop hits from 1979 to 2009. 538 tracks charting the entire history of hip hop, from block party to arena, mixtape to multi-platinum selling album.
Here's the tracklist for 1987
Eric B & Rakim - I Ain't No Joke
Audio Two - Top Billin'
Kid-N-Play - Last Night
Eazy E - Boyz N The Hood
Boogie Down Productions - Poetry
Public Enemy - Bring The Noise
Public Enemy - Rebel Without A Pause
Big Daddy Kane - Raw
Latee - This Cut's Got Flavor
Big Daddy Kane feat Biz Markie - Just Rhymin' with Biz
L.L. Cool J - I'm Bad
Biz Markie - Pickin' Boogers
MC Lyte - I Cram to Understand U (Sam)
Ultramagnetic MCs - Funky
Boogie Down Productions - The Bridge is Over
Eric B & Rakim - I Know You Got Soul
EPMD - It's My Thing