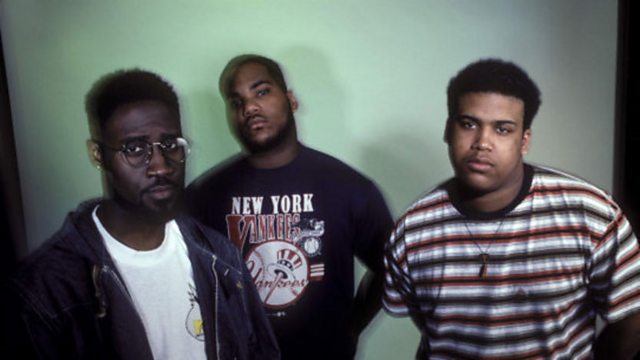 History of Hip Hop 1989 by Jaguar Skills
Hip Hop anthems from 1989 in the mix from the likes of Slick Rick, Biz Markie & De La Soul (pictured).
Part of Jaguar Skills' hour long mash up of hip hop hits from 1979 to 2009. 538 tracks charting the entire history of hip hop, from block party to arena, mixtape to multi-platinum selling album.
Here's the tracklist for 1989
Slick Rick - Mona Lisa
LL Cool J - Big Ol Butt
Digital Underground - Doowhatchalike
De La Soul feat Jungle Brothers, A Tribe Called Quest & Monie Love - Buddy (Native Tongues Decision)
Slick Rick - Hey Young World
Nice And Smooth - Early To Rise
Chubb Rock - Ya Bad Chubs
MC Lyte - Cha, Cha, Cha
Slick Rick - Children's Story
De La Soul - Me, Myself And I
Tone Loc - Wild Thing
Big Daddy Kane - Warm It Up Kane
NWA - Express Yourself
Special Ed - I Got It Made
The DOC - Is It Funky Enough
Ice T - You Played Yourself
NWA - Straight Outta Compton
3rd Bass - Steppin' To The AM
EPMD - So What 'Cha Saying
Public Enemy - Fight The Power
Biz Markie - Just A Friend
Gangstarr - Words I Manifest