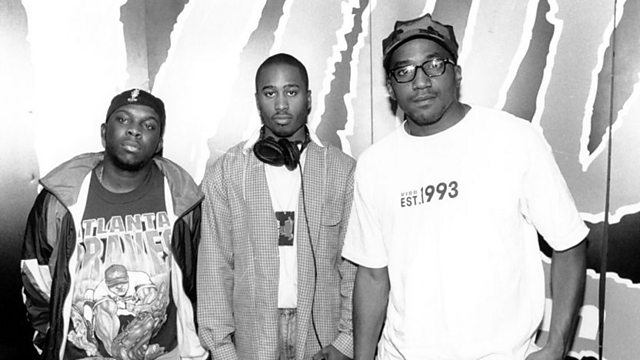 History of Hip Hop 1992 by Jaguar Skills
Hip Hop anthems from 1992 in the mix from the likes of House of Pain, Pete Rock & A Tribe Called Quest (pictured).
Part of Jaguar Skills' hour long mash up of hip hop hits from 1979 to 2009. 538 tracks charting the entire history of hip hop, from block party to arena, mixtape to multi-platinum selling album.
Here's the tracklist for 1992
Naughty By Nature - Uptown Anthem
A Tribe Called Quest - Scenario
Afrika Bambaataa Presents Time Zone - Zulu War Chant
Eric B. & Rakim - Don't Sweat The Technique
Eric B. & Rakim - Juice (Know the Ledge)
Redman - Time 4 Sum Akshon
EPMD featuring K-Solo & Redman - Head Banger
Das EFX - They Want EFX
Black Sheep - The Choice is Yours (Revisited)
House of Pain - Jump Around
Gang Starr featuring Nice & Smooth - DWYCK
Nas - Half Time
Dr. Dre featuring Snoop Doggy Dogg - Deep Cover
Das EFX - Mic Checka (Remix)
Diamond D - Best Kept Secret
Black Moon - Who Got da Props?
A Tribe Called Quest - Jazz (We've Got)
Del tha Funkee Homosapien - Mistadobalina
Brand Nubian - Punks Jump Up to Get Beat Down
Main Source featuring Neek the Exotic - Fakin' the Funk (Remix)
Pete Rock & CL Smooth - T.R.O.Y. (They Reminisce Over You)