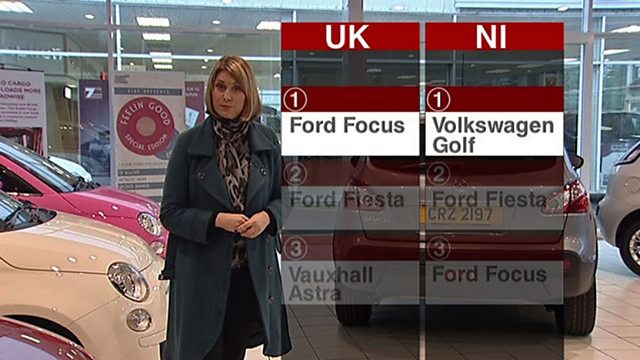 Family Focus: State of the NI car market
Now if you are thinking about buying a new car - we're taking a closer look on family focus at the current state of the local car market Sarah Travers has teamed up once again with BBC Newsline's consumer correspondent Martin Cassidy to find out just what's selling here and also to find out how people are financing their deals.
Top ten selling cars in Northern Ireland and the UK in January 2011.
Society of Motor Manufacturers and Traders Top Ten:
UK results in brackets.
Northern Ireland (United Kingdom)
1. Volkswagen Golf (Ford Focus)
2. Ford Fiesta (Ford Fiesta)
3. Ford Focus (Vauxhall Astra)
4. Peugeot 207 (Vauxhall Corsa)
5. Nissan Qashqai (VW Golf)
6. Volkswagen Polo (BMW 3 Series)
7. Vauxhall Corsa (VW Polo)
8. Vauxhall Astra (Vauxhall Insignia)
9. Vauxhall Insignia (Peugeot 207)
10. Toyota Avensis (Nissan Qashqai)
Diesel cars now represent more than half the market but with pump prices now 2 to 3 pence above that of petrol. The figures for a two litre Mondeo diesel version of a two litre Ford Mondeo would pay back the extra 1450 pounds for the diesel version in just two years reaching the break even point at just 30,000 miles.
There are many price comparison sites online that contain more information, search 'petrol-vs-diesel'