About the BBC Singers
The BBC Singers hold a unique position in British musical life. Performing everything from Byrd to Birtwistle, Tallis to Takemitsu, their versatility is second to none.
The choir's unrivalled expertise in performing the best of contemporary music has brought about creative relationships with some of the most important composers and conductors of the 20th and 21st centuries, including Poulenc, Britten and Harrison Birtwistle.
Recent highlights include performances at the BBC Proms, a concert to mark composer Edward Cowie's 70th birthday and a concert of European film music with the BBC Concert Orchestra.
Based at the BBC's Maida Vale Studios, the BBC Singers also give regular free concerts at St Paul's Knightsbridge, as well as regularly appearing at major festivals across the UK and beyond.
2013-14 Season
The 2013-14 season sees the launch of an exciting series of concerts in the stunning surroundings of London's newest concert venue, Milton Court featuring a thrillingly diverse range of music, first-rate soloists and leading choral conductors including Chief Conductor David Hill, Principal Guest Conductor Paul Brough and Eric Whitacre.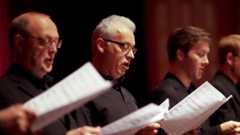 The season also includes Singers at Six, a series of early-evening concerts at St Giles's, Cripplegate complementing BBC Symphony Orchestra concerts in the Barbican later the same evening, Handel's Messiah in Temple Church in December and the UK premiere of C. P. E. Bach's 1784 St John Passion in April.
Composers
Gabriel Jackson, Associate Composer 2010 - 2013
Judith Bingham: Associate Composer 2006 - 2010
Edward Cowie: Associate Composer 2002 - 2006
How to Apply
All BBC Singers vacancies are advertised on the BBC Jobs website. Successful applicants will be asked to attend an audition.
We are always interested in auditioning singers for our list of extras and deputies.
If you wish to apply for an audition, please email us your CV (which should include details of your training and experience).