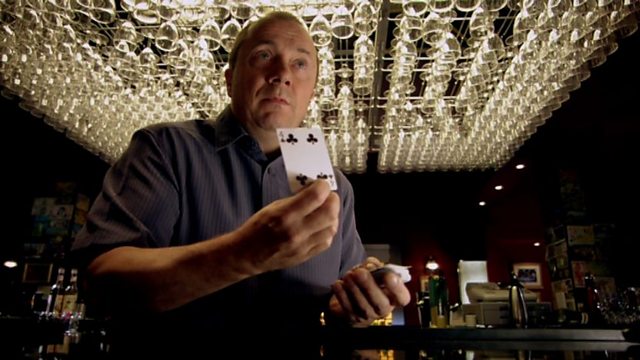 Benny Teaches Eddie Card Tricks
Eddie has been left in charge of Benny whilst the rest of the gang get on with the con. Always desperate to get one over on the gang, Eddie convinces Benny to help him learn some card tricks.
Poor old Benny tries his best to remain patient as Eddie tries and fails, again and again, to master the slight of hand. It's only a matter of time before Benny snaps and takes the cards from him... this is how you do it!
Credits
| Role | Contributor |
| --- | --- |
| Mickey Stone | Adrian Lester |
| Albert Stroller | Robert Vaughn |
| Ash Morgan | Robert Glenister |
| Emma Kennedy | Kelly Adams |
| Sean Kennedy | Matt Di Angelo |
| Eddie | Rob Jarvis |
| Benny | Denis Lawson |
| Danush Larijani | Chook Sibtain |
| Vicar | Ian Hallard |
| Vic the Mick | Daren Elliott Holmes |
| Phil | Mark Roper |
| Director | Roger Goldby |
| Producer | Jane Hudson |
| Writer | Chris Bucknall |