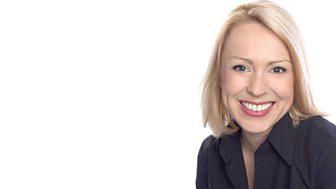 Sasha Twining
Sasha Twining on 96.1FM, DAB and online. Tim Butcher on The Big Dorset Brunch on 103.8FM
About Sasha Twining
Hear Sasha Twining live on 96.1FM, digital radio and online. Tim Butcher brings you The Big Dorset Brunch live on 103.8FM.
Sasha's favourite way to spend a Saturday morning would be with a coffee, a pile of newspapers and some friends so we've just transferred that to the BBC Radio Solent studios! A former Portsmouth student, she's now learning about the South Coast after marrying into a Hayling Island family.
Sasha says "I wanted the Saturday morning programme to be a laid back but engaging listen with local people talking about their lives and their opinions on what's happening in the world at the moment. We're not shy in asking people their opinions on the serious issues of the day but you're just as likely to hear our panel laughing about misbehaving pets and the rights and wrongs of painting wheelie bins!"
The show also has a life's laundry discussion every week on something which you didn't know you needed to know until you hear it!
"This is one of  my favourite bits of the show - we talk finance, law, animal behaviour, antiques - basically something people listening might be doing that weekend with an expert in the studio. Every week I learn something."
Sasha's radio career started on her 15th birthday when she got called into BBC Radio Norfolk to answer phones on Children in Need night. She pestered away until she got to make the tea for the evening presenter! And then much to her mother's annoyance she turned down a university place to present the breakfast show on her local station - she became the first solo female breakfast show presenter on commericial radio in the UK. Since then she's worked at home and abroad, on the radio and television, including a spell in Russia.
"That was the biggest adventure I have ever had. I was the lead anchor on a rolling news channel broadcasting from Moscow. But eventually the weather got the better of me and I missed the sun sparkling on the Solent!"