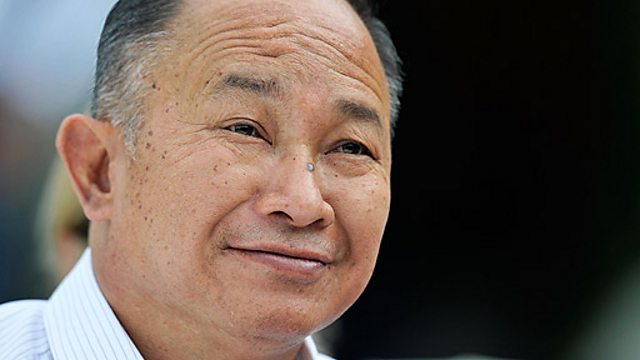 John Woo
Listen in pop-out player
Jim White talks to the legendary action movie director John Woo who's career began in Hong Kong where his cartoonishly violent action movies, such as Hard-Boiled, The Killer and A Better Tomorrow, won him a vociferous fan base, led by Quentin Tarantino and Martin Scorcese. His move to Hollywood has brought him box office success with Face/Off and Mission Impossible II, but his ambitious pet project Windtalkers fared less well with audiences. His new movie is Paycheck starring Ben Affleck and Uma Thurman.
Back Row interviewee Charles Dance has reinvented himself from his matinee idol beginnings to the very epitome of the haughty villain. In his new film Black and White, a true story which still resonates in the Australian legal consciousness, he plays an icy establishment lawyer in Adelaide back in 1958, who is out to prove that an illiterate Aboriginal labourer is the murderer of a nine year old girl.
The Human Stain, directed by Robert Benton, appears to be about an unlikely romance between Anthony Hopkins' aged academic Colman Silk and Nicole Kidman's damaged young woman Faunia Farley, but Hopkins' character has a secret. Although light skinned, Silk was born into a black family and has passed himself off as white for his entire career. Brooke Kroeger, who has researched the phenomenon of African Americans passing for white; film critic Sukhdev Sandhu and writer Stephanie Smith-Browne join Back Row to define the term 'passing'.
Critic David Benedict talks to Jim White about the lasting legacy of Basil Deardens's superb 1961 thriller Victim, starring Dirk Bogarde.
Last on