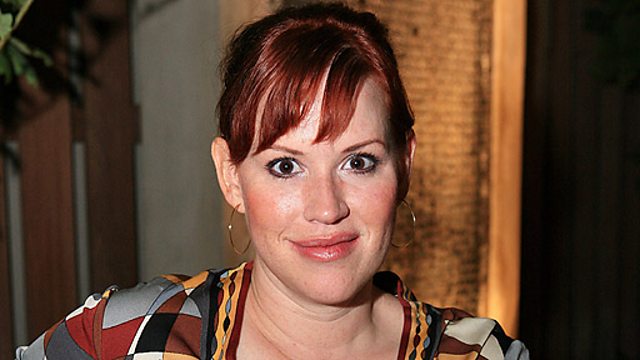 Molly Ringwald
Listen in pop-out player
Actress Molly Ringwald made her name in the 1980s bratpack films, Pretty in Pink and The Breakfast Club. She's currently starring in When Harry Met Sally in London's West End. Martha asks her what it's like to fake an orgasm in front of a full house and finds out what she's been up to since she first hit the silver screen.
Rania al-Baz is Saudi Arabia's most famous female television presenter, renowned for appearing on screen with her face uncovered. In April this year, she was beaten so badly by her husband that she nearly died. She went public about the attack, allowing pictures of her battered face to be published, and is now trying to divorce her husband. How much of a taboo has she broken in Saudi Arabia by talking about the case in public? Martha talks to Dr Mai Yamani from the Royal Institute of International Affairs.
Why do teenage girls need to scream at concerts? Westminster Council recently lost an appeal preventing MTV from staging a British version of Total Request Live in Leicester Square. It's thought that the reason why they wanted to stop to it was the threat posed to public order by hoards of screaming teenage girls waving banners and pressing against the barriers in the manner familiar since the Beatles, Elvis Presley, The Osmonds and The Bay City Rollers. Martha asks Elaine Showalter and novelist Jenny Colgan what it is that makes teenage girls scream hysterically when they go to a concert and why, as quickly as this behaviour starts, it stops.
Archaeology has rarely been so popular, but while we imagine khaki dressed professionals earnestly peering over old pots, the reality is a little bit different. Some of them have been digging up Roman knicker drawers. In the first of our series on ancient artefacts and the lives of British women in the past, Anna McNamee goes to see Jenny Hall, Roman Curator at the Museum of London.
Last on