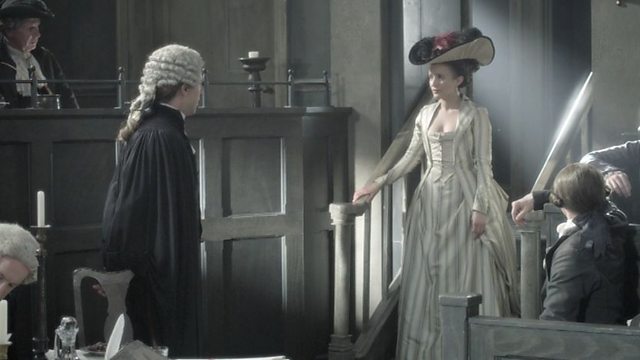 Lady Sarah Steps In
At the Old Bailey, Judge Buller sits on the bench listening as Constable Yardley gives evidence against Annie Christie, she's accused of theft. Garrow reads a newspaper, only half-listening. Silvester asks if there were any other things found after the Constable's search.
The Constable holds up a key and reveals it opens the Prosecutor's door. Annie looks defeated. Garrow jumps to her defence, he can act as "amicus curiae" or "friend of the court". The Constable maintains the Prosecutor's key was "eaten up with rust".
Garrow argues there is no reliable evidence to whom it belonged to or what door it opened. The jury is unsympathetic to Annie but she's saved by Lady Sarah who declares that she will speak on her behalf. Garrow is very pleased to see her.
Credits
| Role | Contributor |
| --- | --- |
| Garrow | Andrew Buchan |
| Southouse | Alun Armstrong |
| Lady Sarah | Lyndsey Marshal |
| Sir Arthur | Rupert Graves |
| Silvester | Aidan McArdle |
| Judge Buller | Michael Culkin |
| Constable Yardley | Steven McNicoll |
| Court Clerk | Anthony Bowers |
| Annie Christie | Charlene Boyd |
| Mary Christie | Victoria Balnaves |
| Peter Gilbert | Benedict Sandiford |
| Hugh Gilbert | Martin Savage |
| Gustavas Vassa | Danny Sapani |
| James Kelsall | Colin Tierney |
| Captain Collingwood | Jasper Britton |
| Robert Stubbs | Tony Maudsley |
| Lord Melville | Stephen Boxer |
| John Farmer | Anton Lesser |
| Director | Ashley Pearce |
| Producer | Nick Pitt |
| Writer | Tony Marchant |