Blooming season
Duration: 04:41
Predicting what tomorrow will bring is a bit of a dark art. With no crystal ball or time machine, how can you look into the future? Well, I've already discovered how the countryside holds clues as to what's happened. But can it also hold clues as to what's going to happen? Time to head to the Lake District. This is Ullswater, and is surrounded by powerful scenery. The scenery is evidence of the last dramatic climate change, the last ice age, when these Fells were exposed and the lakes scoured out and Britain was more like the Arctic. But the lakes also have clues of more recent climate changes, changes which are happening today. The evidence for them is just over there. These bashful flowers have a secret to tell, and they're no ordinary daffodils. For a start they're our wild native daffodil, also known as the lent lilly. A wonderful delicate flower, much more elegant than those big fat garden hybrids. And these particular daffs are also the most famous in the world. They provided inspiration for one of our greatest poets. 'I wandered lonely as a cloud that floats on high o'er vales and hills. When all at once I saw a crowd, a host of golden daffodils'. It was these daffodils beside this very lake that were 'fluttering and dancing in the breeze' when William Wordsworth stumbled upon them. But what's really important is when Wordsworth found these flowers. And we know that to the day, thanks to his sister's diary. On April 15th 1802, Dorothy Wordsworth wrote 'when we were in the woods beyond Gowbarrow Park we saw a few daffodils close to the waterside, we fancied that the lake had floated the seeds ashore'. While the Wordsworth's were here in the middle of April, 200 years on, this is in the middle of March. These daffs are flowering one month earlier, and they're not alone. Many of our spring flowers are springing up early, and it's a hint of what the future might hold. You can see it happening in your own backyard. Everything just seems to flower sooner than it did when Alan first started gardening. Even our woodland bluebells are ringing the changes. When I was a kid, they always flowered for my birthday in early May. But these days its Mid to late April, when this azure carpet rolls out over the forest floor. In fact, 200 species of wild flower, are blooming two weeks earlier than they were in the 1950's. But this trend isn't just restricted to flowers, other spring events are happening earlier too. As the season shifts forwards, trees are also bursting into life ahead of schedule. And its not just spring that's on the move. At the other end of the year, Keat's season of 'mists and mellow fruitfulness', Autumn, seems to be arriving later. When I was growing up I spent many an autumn day raking up leaves to stuff my home made Guy Fawkes, in preparation for November 5th. But these days kids have to use newspaper. Because even on bonfire night, most leaves are still on the trees.
Available since: Fri 5 Nov 2010
Credits
Presenter

Alan TITCHMARSH
Producer

Michael BRIGHT
This clip is from
8/8 Alan Titchmarsh questions what the future might hold for our landscape and its wildlife.
First broadcast: 24 Nov 2004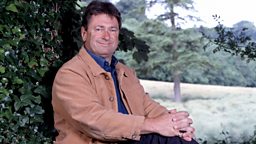 Featured in...
Be captivated, informed and inspired by the world's wildlife.
More clips from Our Future