Wet desert Dartmoor
Duration: 02:38
The thousands of monuments scattered all over our islands, show just how widespread farming had become. Those early farmers even made it up here to Dartmoor. But here they had a far more drastic effect – the first environmental disaster in British history. The bleak moors we know today are very different from how Dartmoor originally looked – even here it was once woodland. But just as they had elsewhere, our ancestors felled that forest to make way for farmland. Dartmoor is absolutely littered with ancient settlements - built during the Bronze Age, about 3,000 years ago. And here at Grimspound they're particularly well preserved – you can make out these circles of the stone huts set within this enormous perimeter wall. This was clearly once a much nicer place to live. But up here, turning forest to fields upset a delicate balance. Dartmoor was primed for disaster. Britain's climate suddenly became colder and wetter. And here on Dartmoor, more and more rain fell. With no trees to hold together the fragile soil, the nutrients were washed away. Crops failed, livestock died – and Dartmoor became a wet desert. Yet, what these moorlands have lost in fertility – they've gained in rugged beauty. Dartmoor isn't the only upland in Britain to be, at least partly, man-made. From Exmoor to the North York moors, these remote and windy landscapes, though created by fire and ice, have all been sculpted by the hand of man. Forest had made way for moorland, heathland, grassland and above all farmland – and as Britain BC became Britain AD – the landscape began to take on a much more familiar feel.
Available since: Wed 3 Nov 2010
Credits
Presenter

Alan TITCHMARSH
Producer

Chris COLE
This clip is from
5/8 Alan Titchmarsh looks at how Stone Age man turned the islands from forest to farm.
First broadcast: 27 Oct 2004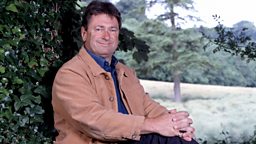 Featured in...
Be captivated, informed and inspired by the world's wildlife.
More clips from Taming the Wild