Ice age safari
Duration: 02:28
When Trafalgar Square – this great monument to Nelson - was being built in the 1830s, the builders dug up an extraordinary collection of exotic bones. And these bones had a history and a story to tell. Take this tooth for example. It's one hundred and twenty thousand years old, and that places it slap bang in the middle of the Ice Age. But it's not from a woolly mammoth or a polar bear. It's from an animal you'd least expect to find in the cold – this is the tooth of a hippopotamus. They also found the bones of lots of other animals that would now be more at home in Africa – hyenas, lions, rhinoceros, and even the tooth of a straight-tusked elephant. So what are these animals doing in Britain in the middle of the Ice Age? Well, we now know that the Ice Age wasn't unrelentingly cold. It was punctuated by warmer periods, some of them much warmer even than today … and these bones prove that one hundred and twenty thousand years ago, right here in the centre of London, the icy wilderness was replaced by Serengeti Plains. It's hard to believe there could have been such dramatic swings in the climate and the wildlife. Glaciers to swamps. Mammoths to hippos. But there's no doubt that's what happened here, and over much of the rest of the country too. On safari… in the ice age? Well, the term 'Ice Age' is a bit misleading actually - 'Dramatic Change Age' would be more accurate. Wherever you live the locality would have been gripped in ice for several thousand years, then a warmer period would have come, then more ice and then another warmer period and so on. In fact, scientists reckon there could have been as many as 30 separate ice ages over the last 2 million years.
Available since: Mon 1 Nov 2010
Credits
Presenter

Alan TITCHMARSH
Producer

Mary COLWELL
This clip is from
3/8 Alan Titchmarsh looks back to the last Ice Age, when polar bears roamed Scotland.
First broadcast: 13 Oct 2004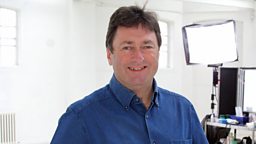 Featured in...
Be captivated, informed and inspired by the world's wildlife.