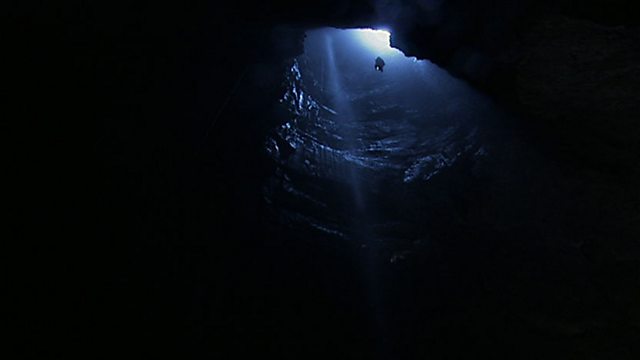 Stone secrets
This is an extraordinary landscape. It's more like the surface of the moon than the Yorkshire Dales. It's a limestone pavement – great lumps of rock that interlock like a jigsaw with great fissures in between them. The lumps are called clints, and the fissures are called grikes… and some of the grikes are 3 or 4 metres deep. The important thing here is not to lose your footing. This landscape has been created by water which dissolves limestone, sculpting it into these convoluted shapes. But if you look around there's hardly a stream or river to be seen. So where are they? This is where one of those rivers has gone - Gaping Gill - one of the largest caves in the British Isles. Alan Titchmarsh followed the water all the way down from where it tumbles underground - its like being a pebble thrown into a waterfall. It's the longest unbroken waterfall in Britain at 111 metres, that's twice the height of Niagara. There are several of these monstrous plumes of water tumbling down through the rock here and they make a heck of a din. But over hundreds of thousands of years they've worn away the limestone to make this enormous cavern. And how do we know it's limestone? Well, because it's got fossils in it. There's the coral and down here sea shells, proving this was once underwater. And when it floods and the water in here rises 10 metres higher than my head, it's underwater again.
Credits
| Role | Contributor |
| --- | --- |
| Presenter | Alan TITCHMARSH |
| Producer | Ian GRAY |
Featured in...
Be captivated, informed and inspired by the world's wildlife.

Find out how the Earth works.