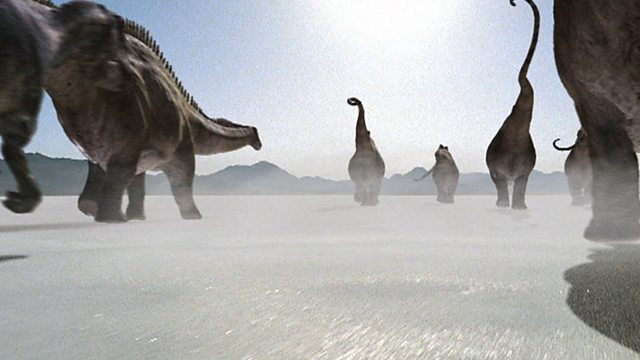 Salt lake attack
In the middle of Al's Jurassic world is a vast salt lake, its crystalline white crust formed by the retreat of an ancient sea. Occasionally its shores see the movement of herds of dinosaurs. These are Diplodocus, heading for a nesting site to the south. It is a grim journey for these mighty creatures, for the heat and lack of drinking water weeds out the weaker animals. Predators know this - predators like Al. He is now five years old and although he is nine metres long, he is not yet fully grown. Al is an experienced hunter, but the herd itself presents a formidable barrier to predators. Still, Al is not the only predator stalking the herd. They can all smell that one of the Diplodocus is in a very bad way. The predators are getting impatient. They need to break up the herd and isolate the weakling. The Allosauruses charge into the herd, trying to get them on the move. The panicked herd has left the sick Diplodocus far behind. The Allosaurus gather for the feast. However even a sick and exhauted Diplodocus is a fearsome adversary. Built for speed Al is frequently wounded in such situations, but he cannot afford to let this slow him down - the competition is too intense. The other carnivores hold back and wait for time and the heat to finish the giant herbivore. After several hours heat exhaustion and his illness bring the Diplodocus to his knees. The predators finally get their reward. Al though there is enough meat here for weeks, there is an urgency in their feeding. The smell of blood will soon bring others, and every Allosaurus wants to eat its fill.
Credits
| Role | Contributor |
| --- | --- |
| Narrator | Kenneth Branagh |
| Director | Tim Haines |
| Producer | Tim Haines |
Featured in...
Be captivated, informed and inspired by the world's wildlife.

Watch the best clips from the acclaimed series Planet Dinosaur and Walking with Dinosaurs.