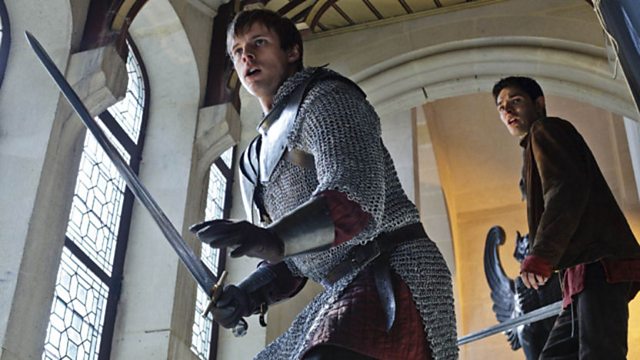 Merlin: The Tears of Uther Pendragon - Part 2 - preview
With Merlin gravely ill from the Serket's poison, Morgana and Morgause continue with their evil plan. They have mentally incapacitated Uther and convinced his enemy, Cenred, to invade Camelot. The fate of the kingdom now rests on Arthur's shoulders.
The Prince and his Knights resist the invaders, but Cenred's soldiers are not the only threat they face. Can Merlin stop Morgana in time to save Arthur from the enemy within?
Credits
| Role | Contributor |
| --- | --- |
| Merlin | Colin Morgan |
| Arthur | Bradley James |
| Morgause | Emilia Fox |
| Cenred | Tom Ellis |
| Gaius | Richard Wilson |
| Uther Pendragon | Anthony Head |
| Morgana | Katie McGrath |
| Gwen | Angel Coulby |
| Voice of the Dragon | John Hurt |
| Sir Leon | Rupert Young |
| Ygraine | Alice Patten |
| Ghost Boy | Jake Phillips |
| Director | Jeremy Webb |
| Producer | Johnny Capps |
| Producer | Julian Murphy |
| Writer | Julian Jones |