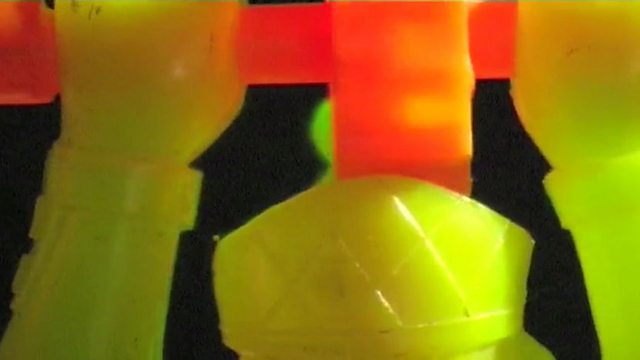 Max Eastley for TAPS - "Piper of Invisible Fires Man"
Film by Helen Petts.
Max Eastley is one of ninety collaborators that have been commissioned by Matt's Gallery, London, to contribute a film to TAPS: Improvisations with Paul Burwell, an exhibition of artists who collaborated with percussionist and live artist Paul Burwell.
Visual artist, musician and improviser Max Eastley playing a toy used by the music group Whirled Music - Paul Burwell, Steve Beresford, David Toop and Max Eastley in the late 70's.
"I was in the audience at one of Paul's performances. He sounded a Chinese cymbal by spinning it in circles and banging it on the floor. Steve Beresford and David Toop were also in the audience and simultaneously we made for the exit. When we were outside we agreed how dangerous this was. I had a vision of a music so perilous for the audience that they would be protected from the performance by a safety net and the performers would wear masks. This was how Whirled Music was born.
Paul said of Whirled Music that he liked the idea of a limited palette - one instrument that depended on the ingenuity of the performer. He liked small sounds. I had this in mind when I took hold of the toy cog rattle and explored it - an adventure with Paul in the house of memory."
TAPS will be taking place at Dilston Grove, Southwark Park, London on 17th, 18th and 19th of September, 2010.
More details at:
http://www.http://www.mattsgallery.org/artists/burwell/exhibition-1.php