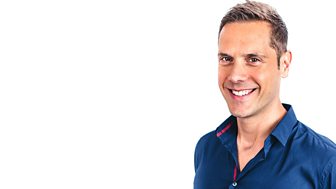 Jim Davis
Join Jim for the big conversation from 9am on 0116 251 1049 (national rate).
On demand
This programme is not currently available on BBC iPlayer Radio
On radio
There are no upcoming broadcasts of this programme
Last on
Wed 28 Dec 2016 06:00
BBC Radio Leicester
About the programme
Jim is proud to be an East Midlander, albeit by choice, not birth. Ever the traveller, Jim was born in Johannesburg, and travelled round much of Europe and North America. He has lived in Thailand and grew up in Berkshire but eventually settled in the Midlands.
He has a long standing connection with Leicestershire as he hosted the breakfast show covering the area on Century FM. Jim recalls, "One of my favourite memories of that time was switching on the Christmas Lights at the Beaumont Leys Shopping Centre. We had a giant wooden sleigh and arrived to the sound of 'The Ronnettes & Sleigh Ride'. We had such a great afternoon!"
Jim has an opinion about almost everything. However, as he points out, "I always say the art to having a great conversation is the ability to listen. That's why I'm eager to hear your thoughts on the topics we cover on the show. I love it when a listener of my programme contributes to the discussion. On the odd occasion, I've even been known to change my mind!"
Jim is a keen chef and enjoys nothing more than cooking for friends. "Having been born in South Africa, the ability to BBQ is in my blood, although we call it a 'Braai'." To burn off all those calories, on a day off, you might find Jim cycling round Rutland Water or down the local gym.