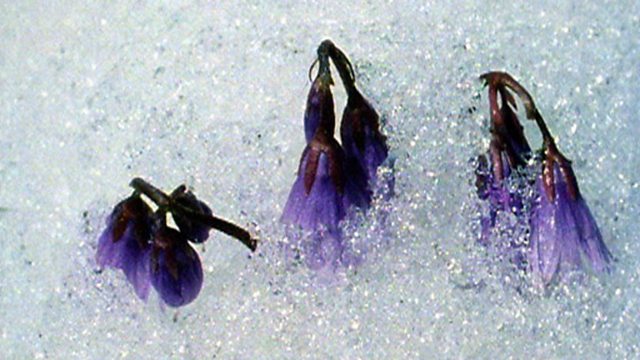 Alpine glory
In winter, conditions for plants on the high peaks of the Alps can be just as severe as in the Arctic, 2,000 miles to the north. But when spring comes to the Alps the sun rises higher in the sky than in the Arctic and is warm enough to melt most of the snow. As it melts, the snow reveals snowbells that are already in flower. The plants will have formed their flower buds in the previous autumn, before they shut down their activities for the winter. The buds then remain dormant until the spring sunshine filters down through the snow and triggers them into action causing them to open even before the snow above them has melted. Because it is cold for so much of the year, the vegetation decays only very slowly and a peaty layer forms. But it is only a thin layer over rock and boulders, so trees find it very difficult to take root. Also, avalanches regularly sweep the Alpine slopes, killing saplings before they can get properly established. Because of this, plants with shallow roots have these mountains largely to themselves, and in summer the high meadows fill with colourful flowers. But for every thousand feet one climbs, the average temperature drops by about 3 degrees which means that plants living in the high mountains must be able to withstand severe cold. Many plants here therefore form small rounded humps to keep themselves out of the chilling wind.
Credits
| Role | Contributor |
| --- | --- |
| Presenter | David ATTENBOROUGH |
| Presenter | Mike SALISBURY |
| Producer | Neil NIGHTINGALE |
| Narrator | David ATTENBOROUGH |
| Camera Operator | David BARLOW |
| Camera Operator | Richard GANNICLIFFT |
| Camera Operator | Roy HUNT |
| Camera Operator | Richard KIRBY |
| Camera Operator | Michael PITTS |
| Camera Operator | Tim SHEPHERD |
| Camera Operator | Gavin THURSTON |
| Camera Operator | John WATERS |
Featured in...
A collection of clips showing the best in timelapse nature films.

Be captivated, informed and inspired by the world's wildlife.