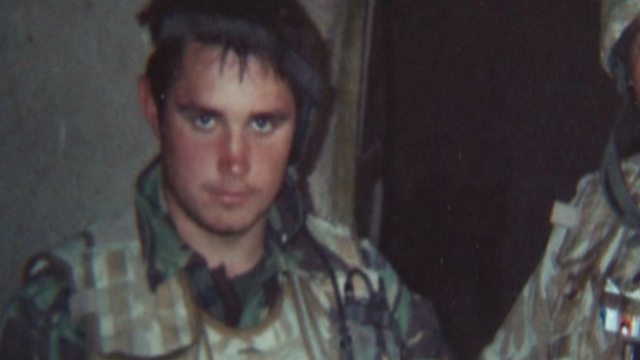 File on 4: A Soldier's Tale
Ben Close is a former soldier who served with the Coldstream Guards, undertaking tours in Iraq, Bosnia and Afghanistan.
Since 2005, he says he has found it increasingly difficult to adjust to life upon his return to the UK from war zones, and has suffered mood swings, nightmares and has resorted to heavy drinking to cope with depression.
In 2008 he was diagnosed with Post Traumatic Stress Disorder (PTSD), three years after his initial symptoms emerged.
Ben told Radio 4's File on 4 reporter, Julian O'Halloran, that he does not believe the Army or Ministry of Defence are doing enough to help soldiers suffering from PTSD.
In May 2010, The Ministry of Defence said it was "committed to creating an effective, through-life, mental health scheme for our Service and ex-Service personnel".
However, a month later Andrew Robathan, Minister for Personnel, Welfare and Veterans told BBC Radio 4's File on 4 programme:
"I think most expert opinion is that you should not screen people for mental health issues because, first of all, there is no scientifically robust way that you can do that and, indeed, the downside of suggesting that people have mental health problems when actually they do not have, is actually quite immense and of great concern."
But when this apparent contradiction between Mr Robathan's views and the MoD statement was pointed out he said:
"We are certainly looking at all these things but the current advice that we are getting is that it would be ill-advised to go down a programme of screening for the reasons I have stated which is that you can identify all sorts of people having mental health problems which with the best will in the world still has some stigma attached when these people do not have any such problems."