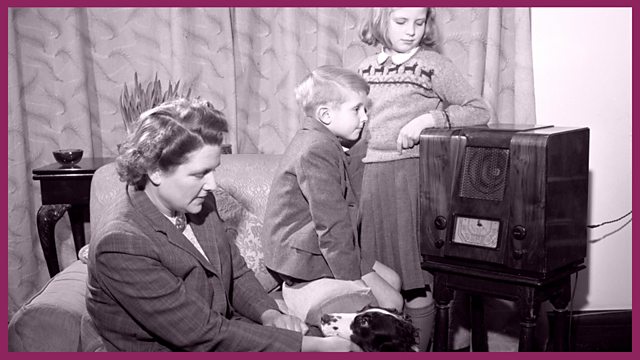 What young children make of the radio
1970. How children respond to 'Listen with Mother'. The programme 'Listen with Mother' was first broadcast on 16 January 1950 on the 'Light' programmme (now Radio 2) although it later transferred to the 'Home' (Radio 4). The 15-minute programme, which consisted of stories, songs and nursery rhymes for children under the age of 5 (and their mothers).
It began at 1.45pm every weekday. At its peak, it had an audience of more than a million. Each programme began with the familiar, and now iconic, phrase: 'Are you sitting comfortably? Then I'll begin'. Regular presenters and story readers included Daphne Oxenford and Dorothy Smith, who each contributed to the programme for more than 20 years, before it ended in 1982.
The speaker in the clip is one of the producers of Listen with Mother. The video images date from the 1950s and 60s when the programme was at the height of its popularity.
TRANSCRIPT:
PRODUCER: When I'm building a programme, I always have in mind just a child or a couple of children in the intimate setting of the home, with or without mother, although we call the programme 'Listen with mother'. We find still that children believe that the storyteller is inside the box in some way, that this disembodied voice creates a very concrete and vivid image in the minds of the children.
INTERVIEWER: What about the piano? That must be rather a problem to accommodate that in the radio as well?
PRODUCER: Well, indeed. One child we heard of walked round and round the box and did express great surprise that, not only was the speaker there, but the piano there too, but didn't question it, didn't query this. And children very often go to the set and stroke it and touch it and press their ears close up to it, treating it very much as they would treat a visible storyteller.
INTERVIEWER: Do they seem to have a sense that the stories are being told just for them individually?
PRODUCER: Indeed yes, they believe that the storyteller sees them. They believe that she hears their replies. We heard of one little girl, who talked to her little boyfriend next door, and who said, my lady played 'Humpty Dumpty' today, and the little boy's reply was, so did mine. They didn't at all think that this was the same programme. They still thought it was an individual programme each for her or for him.
Featured in...
Media

—

Britain since the 1930s

Recordings from the BBC Sound Archive about radio, television and the rise of mass media.