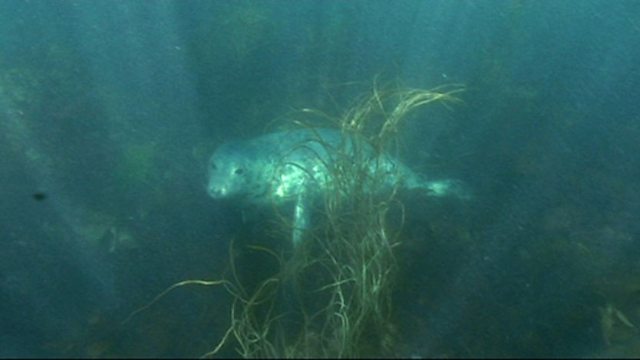 Flippering brilliant!
Surrounding Lundy's coast is a population of grey seals, which you can sea at low tide. They look cumbersome on land, but in the water they are totally different. Mike Dilger is going snorkelling to try and get a better view of the seals' elegance underwater. The boat crew know exactly where to drop Mike off, and within minutes a few seals come to check Mike out. The best thing to do is to stay still and relaxed in the water and let them come to you. A little patience pays off, and some seals come close. One has a rest in the seaweed two metres under Mike. The seals in the water with him are females and youngsters and seem totally unafraid. Sometimes, the seals will give a friendly tug on a swimmer's fins, but today they are not quite brave enough. Swimming with seals round Lundy is definitely something to do before you die.
Featured in...
An exploration of the wealth of wildlife that lives in and around the British seaside.

Be captivated, informed and inspired by the world's wildlife.