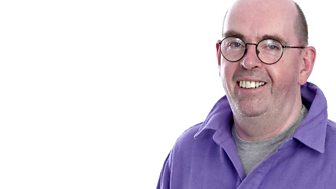 Richard Atkins
Richard admits that writing his full CV might well take several pages.
"In forty years I've done everything from being a musician in the Royal Artillery and looking after sheep and pigs in a market, to flogging aluminium replacement windows door to door and working in a department store selling, though not all at the same time you understand, suits and records, greetings cards and fridges. It has been a colourful life"
For the past twenty five years Richard's life has been split.
Working for many years as a Methodist minister he has also been involved in the BBC so being up at 3.30am on Sunday morning is not a problem as Richard looks forward to another Gloucestershire Sunday Breakfast and is clearly enthusiastic.
"A first hour of some great hymns and classical music is followed by some of the very best faith stories and guests from around Gloucestershire.
"Later on we're out and about in the county visiting some of those special Gloucestershire gardens and houses.
"Of course we always love to hear from our family of listeners during the show on the phone, text or via e-mail.
"Sunday Breakfast is the perfect start to a Gloucestershire Sunday".
Although now retired from his work as a full time Methodist minister, Richard loves working as a broadcaster and when away from the microphone can often be found out and about in Gloucestershire.
He is clearly very happy to be living in this part of the country.
"Even though I come from just over the border in Wiltshire I love Gloucestershire for its contrasts; the history, music, sport and wonderful countryside.
"I have a passion for classical music so living in the county which has Parry, Vaughan Williams and Holst as part of its heritage is very special to me.
"Sport is also very important and I like to get my fill of football at the New Lawn watching Forest Green Rovers.
"I'm recently married so now both Cathy and I can experience that exciting life living in glorious Gloucestershire."